Support for Regulatory Affairs Applications
Proposal for Regulatory Affairs Application Support for Corporations
In order to manufacture and sell medical devices in Japan, an application must be submitted to the PMDA (Pharmaceuticals and Medical Devices Agency) or a third-party certification body for approval.
In addition to supporting the preparation of application documents, we provide solutions to meet various needs,
including support for approval reviews, consulting on the establishment of internal systems,
and correspondence with manufacturing plants.
In addition, we are certified under the international iso13485 standard, which is specific to medical devices,
and our staff with extensive knowledge and experience can provide a variety of support tailored to your needs.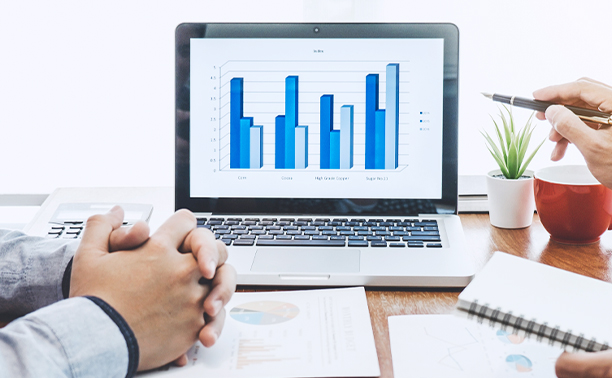 Regulatory Application Strategy Support
We provide regulatory consulting services for medical device development and approval applications.
Consulting on development/application for medical devices, etc.
Support for various consultations with regulatory authorities (PMDA, etc.).
Consulting for utilization of overseas clinical data.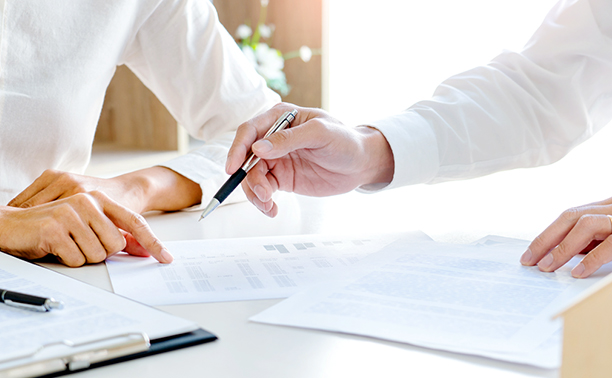 Support for Preparation of Approval Application Materials
We can assist you in preparing the following various documents related to your application for approval.
We also provide a one-stop service for "acquisition of data for application" and "preparation of application forms".
Support for preparation of application for approval/Consulting on procedures for one change and minor changes.
Review and propose revisions to application materials, and follow up on QC (checking materials, etc.).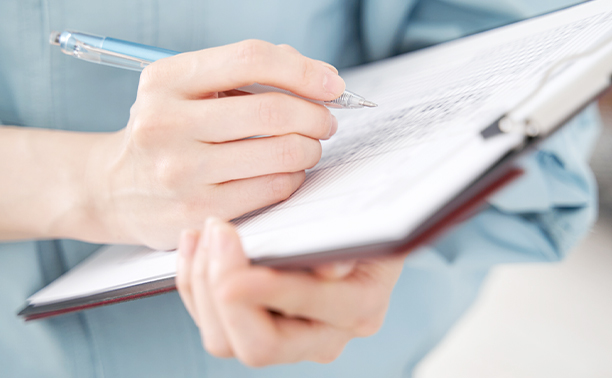 Support for approval review response
We will also support you in handling the review after application for approval until approval is obtained.
Responding to inquiries ( draft responses, consulting on additional testing, etc.).
QMS Conformity Assessment Support.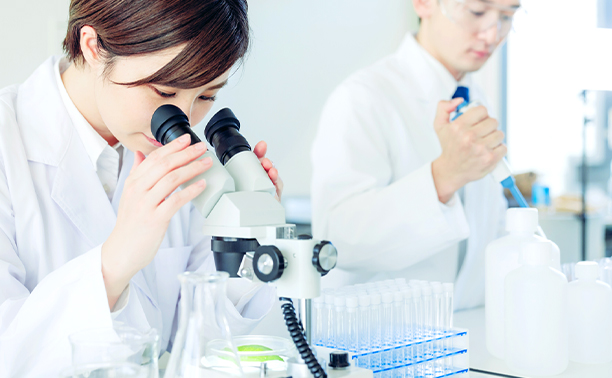 Assist in conducting analytical testing and data preparation for application
We support the implementation of analytical tests for application and the creation of data.
Our staff with abundant application experience, based on our long experience in analytical testing, will support you in obtaining data for application and responding to reliability surveys.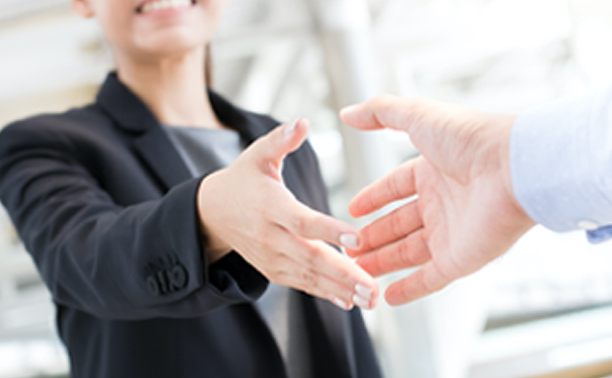 Support for operations related to sales after market launch
We support various operations such as quality control based on QMS ordinance and safety control based on GVP ordinance.
DMAH operational support is also available.
Regulatory support process for obtaining approval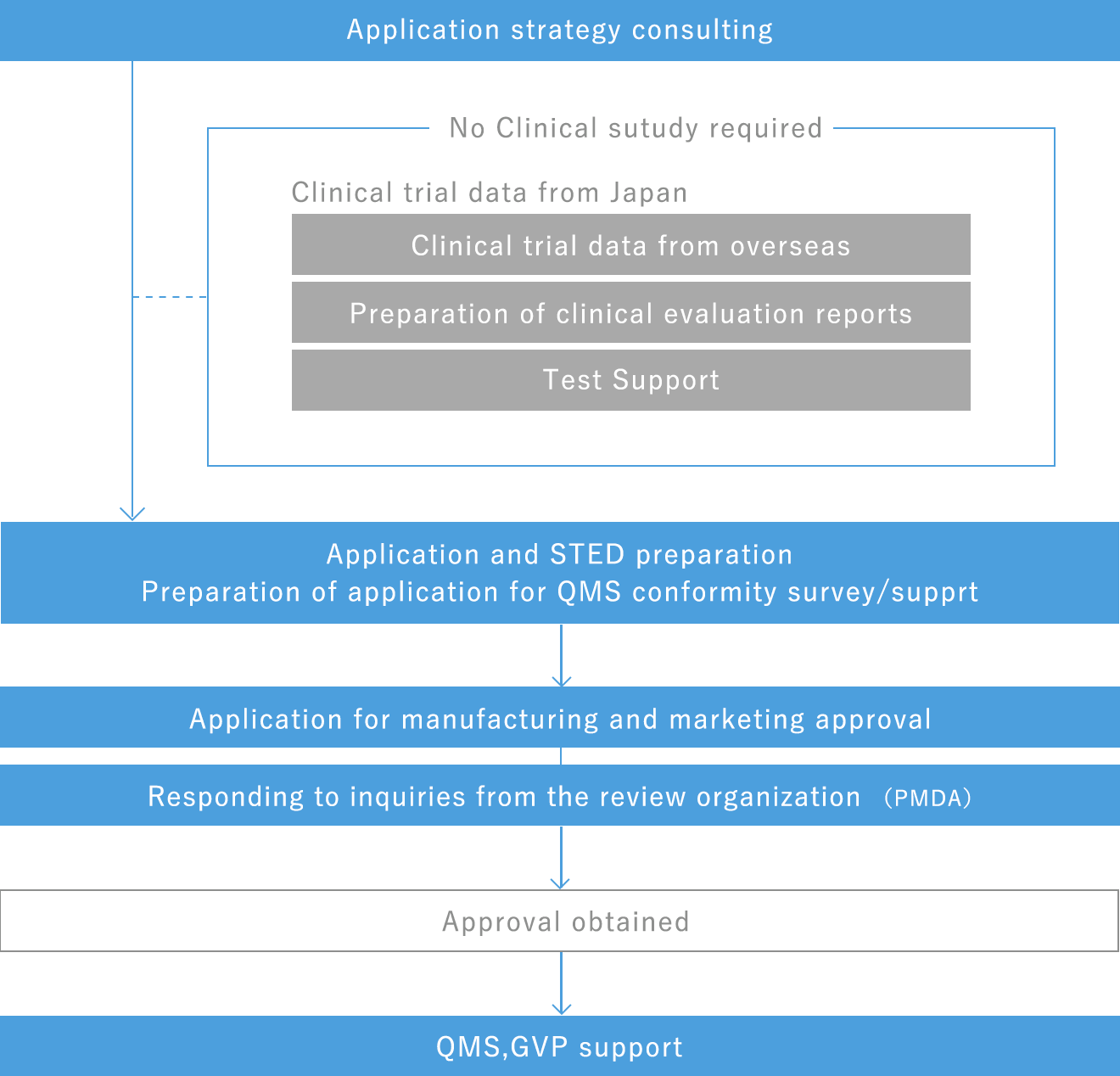 Frequently Asked Questions (FAQ)
Q1

I would like to know the process of outsourcing.

A

Please refer to the flow chart in "Flow of consignment".

Flow of consignment
Q2

I want to sell a medical device in Japan, can you consult with me on a comprehensive pharmaceutical strategy?

A

We will examine product information and clinical trial data, and make proposals for rapid approval and regulatory compliance. We are also ISO13485 certified, so we can provide support for manufacturing and quality control at manufacturing plants after obtaining approval.
Q3

I would like to obtain domestic approval using a clinical trial conducted overseas, can I apply?

A

With our extensive experience in preparing application materials for filing and obtaining approval in Japan, we can assist you in preparing materials for the domestic filing process from overseas clinical trial data.
Q4

Is it possible for us to request only support in dealing with applications for approval?

A

We will support only the necessary part upon request. Please contact us for details.
Q5

We are having trouble communicating with our overseas factory and cannot prepare the necessary documents, can you provide support?

A

We have a track record of manufacturing and selling medical devices through business partnerships with many overseas manufacturing plants, and our staff, who are well versed in regulations, can provide smooth support from correspondence with the plant to the application process.